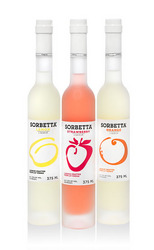 (via)
Lemon, Strawbery + Orange. Yum!
I wanted to give my Aunt (from Michigan) at taste of Long Island. I think I have found it here. Sorbetta!
Some of these "artisnal cocktail" recipes sound divine! Can't wait to try some, and hope Auntie likes them!
Happy Fun Friday Everyone, and please be responsible... (You know the drill!)
In tribute to this new family of Spirits,
Dale DeGroff
has created the following series of Sorbetta based cocktails:
Springtime
1 1/2 ounces Sorbetta Strawberry
1 ounce Hendricks Gin
1/2 ounce fresh lemon juice
1/4 ounce agave nectar
1/2 ounce egg white
Preparation: Shake all the ingredients well and strain into a short Highball glass over ice. Garnish with strawberries and mint sprig.
Lanai Cocktail
1/4 ounce Pimm#1
1 1/2 ounces Sorbetta Orange
1 1./2 ounces Lillet Blonde
Half orange wheel
Preparation: Season and old-fashioned glass by coating the inside with 1/4 ounce Pimms #1 toss out the excess. Fill the glass 3/4 full of ice and pour in the Lillet and the Sorbetta Orange and stir. Garnish with half an orange wheel and serve with short straws.
MÈNAGE Á TRIOS
1 1/2 ounce VSOP Cognac
1 ounce Lemon Sorbetta
1/2 ounce Cointreau
Preparation: Prepare a cocktail glass with a sugar frosted rim. Assemble the three spirits in a cocktail shaker with ice and shake well and strain into the prepared glass. Flame an orange peel over the top of the drink and drop the peel into to drink.
Beaumont Cocktail
1 ounce Sorbetta Orange
1 ounce Mount Gay Extra Old
1/4 ounce homemade cinnamon syrup*
2 ounces fresh grapefruit juice.
Orange or grapefruit zest garnish
Preparation: Assemble all the ingredients in a cocktail shaker with ice and shake we'll. Strain into a chilled cocktail glass and garnish with an orange or grapefruit zest or both.
*Cinnamon Syrup: 1 cup pure water, 2 cups granulated sugar, 12 cinnamon sticks. Assemble all the ingredients in a sauce pan over medium heat and stir until the sugar is completely dissolved. Turn the heat down to simmer and simmer for 2 hours covered. Cool. Strain and bottle for use.
NOTE: Cinnamon Syrup is available commercially but the homemade is so easy to make and so far superior to the commercial product I encourage you to prepare your own.
Punch Primavera
1 Liter fresh Watermelon juice*
500ml bottle Sorbetta Orange
4 ounces fresh lemon juice
2 ounces honey syrup (two parts honey dissolved into one part pure water)
24 mint leaves
Mint sprigs for garnish
Preparation: Combine all the ingredients in a large pitcher or punch bowl. Serve over ice with Lemon Wheel and Mint sprig garnish
NOTE: The punch is wonderful by itself , but as you will see from the drink below it is VERY mixable. Make a batch and tuck it away in the fridge and try with your favorite spirits.
Apertivo Primavera
5 ounces Punch Primavera
1 1/2 ounces Aperol
Lemon wedge
Mint sprig.
Preparation: Fill a wine goblet three quarters with ice cubes. Add the Aperol and then the punch primavera. Squeeze the lemon wedge into the drink and drop it in. Garnish with the mint sprig.
Pimms Suffolk
Ingredients
1/2 ounces Cointreau
1 1/2 ounces Sorbetta Strawberry
3 ounces Long Island Blanc de Blanc Sparkling wine (Suggest Shinn Vineyards)
1/2 Strawberry with greens
Generous mint sprig
Preparation: Fill a goblet 3/4 full with ice cubes. Add the Cointreau the and Sorbetta. Top with the Brut Rose sparkling wine and garnish with the strawberry and mint sprig.