(image from ConeyIsland.com)
I was thinking about vintage Coney Island photography today and decided to see what I could find online. Love the ladies in those old fashioned bathing suits!
Well, I happened upon a Coney Island Wedding that I wanted to share with you. The bride is a graphic designer and wore a fantastic red dress!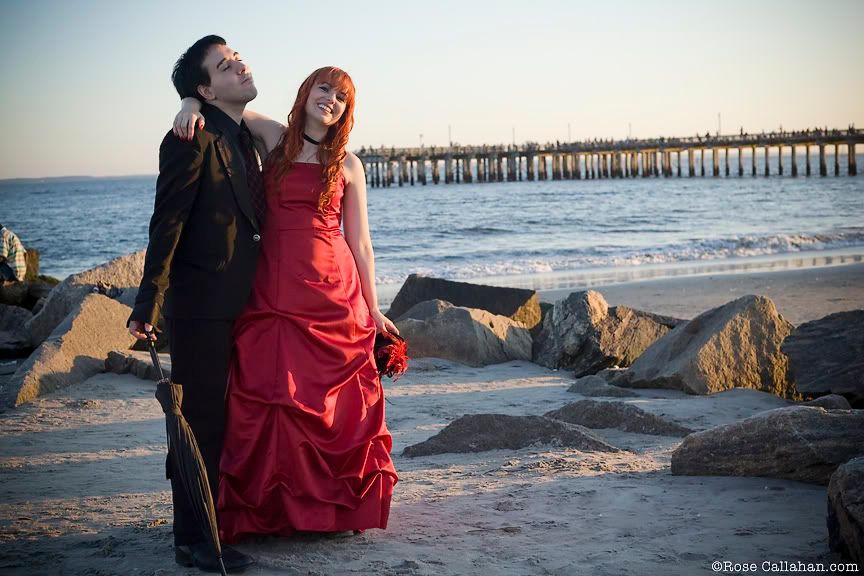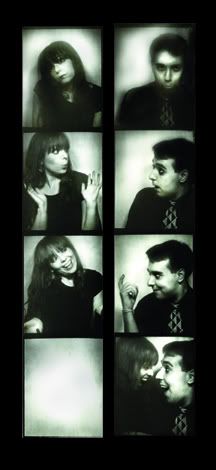 "This was the front side of our invitations. We LOVE photobooths so it was perfect. I'm a graphic designer, so I designed the invites myself and we had them printed at 1800postcards. They were long and shiny card stock. We wanted to go VERY untraditional. Everyone seemed to love them!"
"We got married on 10.4.08 in Coney Island at the Museum above the Freak Show. I wore red and a little burlesque style hat. He wore a custom made southern gothic style suit. I walked down the aisle to the theme song from the show Twin Peaks (Julee Cruise, "Falling"). I made my bouqet out of fake gerber daisies, feathers, and glowing red lights that ran on a battery pack! His Best Man was also our officiant and the whole ceremony was custom to us...equal parts sweet and silly. We wrote our own vows (which included a high five in the middle). We had rings custom made out of imprints of sand, shells, and boardwalk we collected at Coney Island. Our recessional music ("Be My Baby") wasn't working and, instead, the entire audience stomped and clapped the classic girl pop drum beat and sang (amazing!) After the ceremony, the family went out to dinner at a restaurant next door to our reception venue. And then the family took off and the friends arrived for dancing into the night! The next day we went upstate to stay the night at Kate Pierson (from the B-52s) hotel called Lazy Meadow. It was the perfect little "Love Shack"!"
I love Coney Island, I love creative weddings, I love weddings with PERSONALITY. This one has it all.
Click here for the whole story.
"Out of the Ordinary Weddings - A Coney Island Wedding (xposted)"
Unrelated to the above wedding, I came across this cool birthday cake with a Coney Island inspiration!
PinkCakebox.com
. Isn't it great? Check them out for other amazing cakes...